Payment Method Details
We like to make it as easy and convenient as possible for you to make a purchase from us. Currently, we accept the following payment methods:
PayPal / PayPal Credit
PayPal allows you to make payments using a variety of methods including PayPal balance, bank account, PayPal Credit, debit or credit cards(you may scroll down on this page to check how to pay credit/debit card without a PayPal account), and rewards balance.

Credit Cards / Debit Card
Currently, we accept Visa, Master, Diners Club & Discover credit/debit cards via the PayPal payment gateway.

Bank Transfer
Our customer could also pay us local currency (USD/AUD/CAD/GBP/EUR) via bank transfer now. Contact our online agent, and you will get our local banking details in US/AU/CA/EU/UK soon.


Cryptocurrency Payment by Coinbase


Our customers are now able to checkout and pay with Bitcoin, Ethereum, and USD Coin via Coinbase.

As most of our products are high-ticket products, some banks may have a risk system to block such a high-value transaction. If your payment is declined, you could call your bank to get the transaction approval and then pay again using the same method or try another payment method to process payment.
Credit Card Payment Failed Solutions
For Whatever Reason or Just No Reason
Simply, pay again via PayPal. As PayPal accept almost all kinds of credit card as well as PayPal balance, bank account, PayPal Credit. At the same time, paying with PayPal gives you an extra level of security and fraud prevention.


Do Not Honour/High Risk/Fraud


It means declined by the card-issuing bank. You need to call your bank (Most of the time, they will call you first) to verify the transaction was processed by yourself, the cardholder, then pay again.


Duplicate


It means you have successfully paid for another order within 24 hours. The payment gateway is worried about repeated deductions so rejected this payment; if you need to process this payment, just try again via another payment metold.


Expired Card/Insufficient Funds/Over Credit Limit


You need to pay with a new card.


Stolen or Lost Card


The card-issuing bank marks the card as a lost card, and you need to pay with a new card.


Invalid Transaction


Currently, our credit card payment gateway supports Visa, Master, Diners Club & Discover (excepted American Express and JCB). Invalid transaction means that you used the other cards to pay, such as the cards that can only be used for refueling. You need to pay with a supported card.


CVV2 Failure/Invalid Card Number


Wrong billing info. You could check the billing info and pay again.


24hr More Repeat/Canceled


It means your payment failed more than 3 payments within 24 hours, so our payment gateway rejected the payment. You could pay again with a new card or check correct billing info and pay after 24 hrs.
pay credit card via PayPal without a Paypal account method
Step 1: After choosing the payment method, PayPal/PayPal Invoice, you will be redirected to a PayPal page so that you could choose to pay via a Credit/Debit card. No need to enter any info above.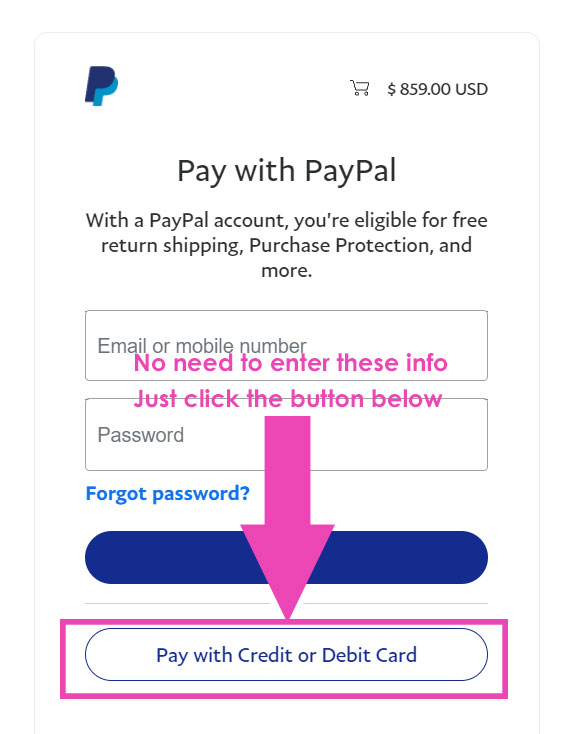 Step 2: On the next page, after entering your billing information, you can then choose to pay by creating a PayPal account or just as a guest who does not require a PayPal account.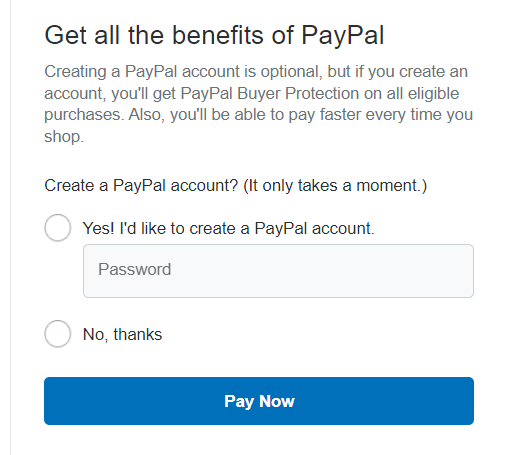 Still any questions? Contact our online agent, and we will reply soon!